The Best Places to Live in Vancouver, WA
January 28, 2021
In the morning, your hometown is the place that greets you as you stop for coffee on your way to work. When friends and family come to visit, your hometown is where you'll laugh together over a meal and drinks at your favorite spot. And when you need a familiar, safe place to walk around, your hometown is your personal corner of the world. When you're looking for the perfect place to plant your roots, we believe that a modern, customized home isn't enough — you deserve a hometown that checks off all the boxes too. 
When you decide to build a brand new home in or around scenic, sprawling Vancouver, you'll open your front door every morning and feel that immediate sense of comfort, security, and relief — knowing that you're right where you belong. Knowing that you're home. From the local attractions that bring joy to your daily life to the charming streets that will take you to familiar and new places, one of the Vancouver neighborhoods where we build is the perfect hometown to call your own. Take a look at a few of the greatest options for you and your family:
Best Places to Live Near Vancouver, WA
Battle Ground: Home of our Cedars Landing community, Battle Ground is a lush, green city with a cozy rural feel, just about 30 minutes north of Vancouver. If you enjoy spending time in the great outdoors, you're going to love the vast array of picturesque options in this nature-filled wonderland. From parks to hiking trails, there's never a shortage of outdoor recreation for you and your family to enjoy. And with plenty of attractions, from scenic wineries to local restaurants and shops just beyond your door, you always have something fun to experience with family or friends.
Ridgefield: With a vibrant downtown along the Columbia River, surrounded by forests and farmland, Ridgefield is a beautiful place to plant your roots. Home of our Cloverhill and Seven Wells Estates communities, this peaceful, family-friendly city is the kind of place where everyone says hello to each other — and truly loves where they live. From parks and trails to the Marina and the Port of Ridgefield, you and your family have the natural world right at your feet. You'll also enjoy the variety of unique and exciting options for shopping, dining, and entertainment, as well as a close proximity to Vancouver and nearby large cities.
La Center: A small, quiet town tucked away from the traffic and noise of larger cities, La Center is a peaceful, private oasis that's so easy to call home. There are so many reasons why we've built our Heritage Country Estates and Holley Park communities here, one being the laid-back, easygoing feel you'll enjoy wherever you go. From neighborhood parks and hiking trails to an easy commute to neighboring cities, La Center is perfect for families who enjoy having a secure, secluded place to call home, along with a close proximity to Vancouver for everything you need.
Vancouver: Where the wonders of the natural world converge with vibrant, urban life, Vancouver is a magnificent city where you and your family will love to spend your days. We have two communities right in Vancouver, Heritage Glen and Ramey Lane, and are excited to say that we have five new communities coming soon: Grove Crossing, Pleasant View Estates, Si Ellen Farms, Sunnyside Park, and Yorkshire Estates. On the north bank of the Columbia River, between the Pacific Ocean and The Cascade Mountains, Vancouver is truly a city like no other. Enjoy a picnic beside a waterfall at Moulton Falls State Park, meet up with friends at a craft brewery or winery, see the world from a canyon at Columbia River Gorge, take your kids for a shopping spree at Vancouver Mall — when you live here, you have a world of new adventures and experiences waiting for you wherever you go.
No matter where you and your family decide to settle into, you can be sure that the home we build for you will be built for life — with flexible, innovative design, and today's first-rate smart home technology and energy-efficient features that make your daily routine more comfortable and convenient than ever. Plus, with our unique customization options throughout our design studio, we will help you bring your unique vision of home to life. If you prefer to build your home on your own land as opposed to one of our communities, our skilled team will assist you throughout every step of the process.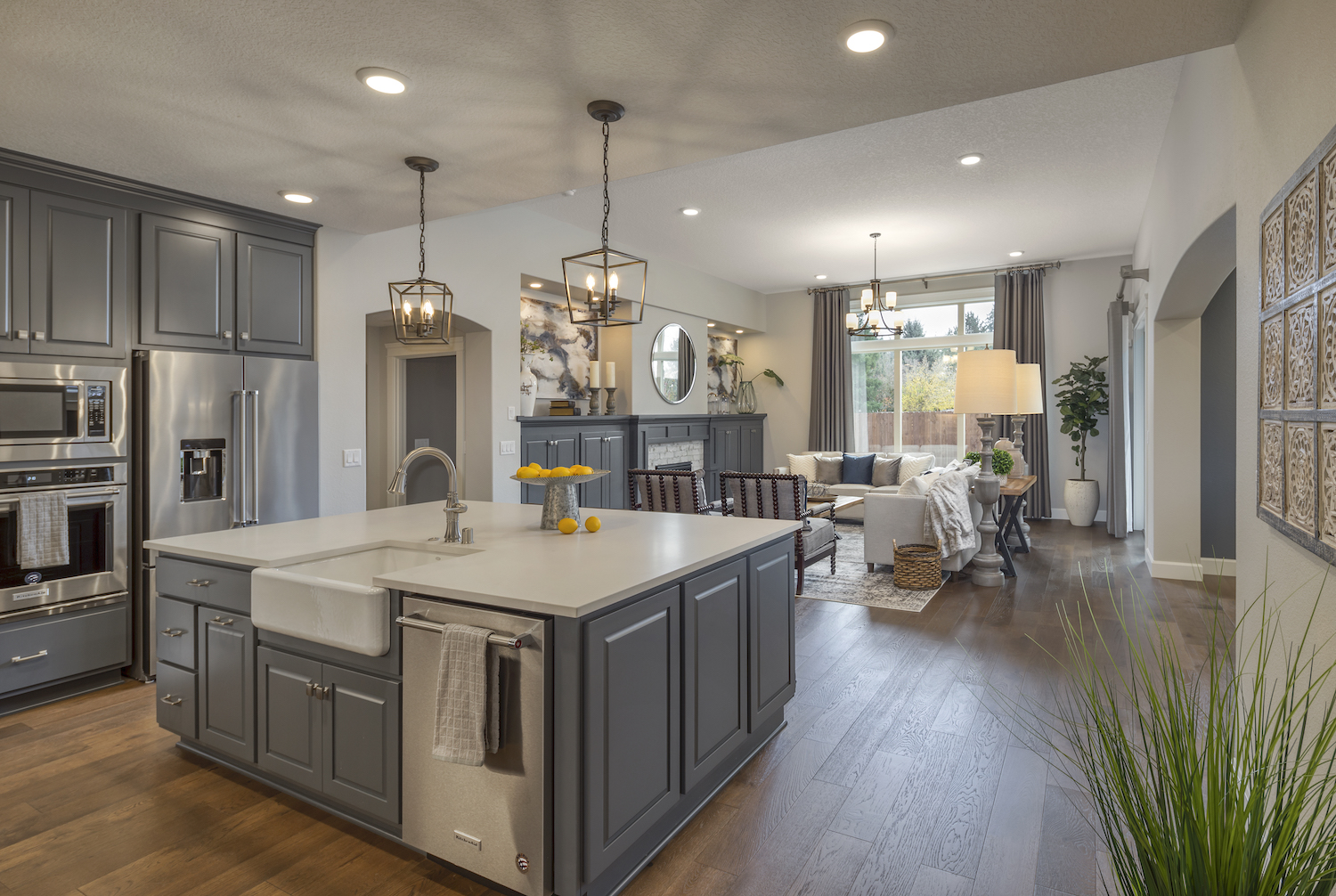 Vancouver, WA Home Builders
As you look ahead to the new year and envision your family's future, you may see more than a beautiful new home — you may also see a vibrant, family-friendly city that you will love to call your hometown. From the parks and trails where you will bike, hike, and relax together, to the local attractions that will become a beloved part of your daily routine, the city where you plant your roots is just as important as your actual home. 
We carefully choose the Vancouver neighborhoods where we build our homes, because we know that the area you live in can make all the difference in your life. We are happy to say that one of these incredible Vancouver neighborhoods will bring endless joy to you and your family as you live and grow together! If you're ready to get started, please contact us at 360-448-4710. Your best days are just ahead.